Skip to Main Content
It looks like you're using Internet Explorer 11 or older. This website works best with modern browsers such as the latest versions of Chrome, Firefox, Safari, and Edge. If you continue with this browser, you may see unexpected results.
Welcome
This LibGuide is all about great speeches, orators, and what makes them.
Winston Churchill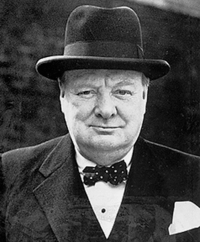 Speeches and Speechmaking
There are many resources help you access great speeches and to help you write and deliver your own great speeches.
If you are searching the library catalog or Search@UW, you may find it helpful to search using these subjects:
Elocution
Oratory
Persuasion (Rhetoric)
Political Oratory
Speeches, Addresses, etc.
Speechwriting
Help is Available - Ask a Librarian
Librarians can help you learn to make the most of the information resources, tools, and services of Murphy Library and beyond!
Weekdays & Sunday afternoons (fall/spring):
Any time (year-round):
---
Local history and/or archives research? Special Collections / Area Research Center specialists are available!